Request a Handbook of Roses
Please fill in your details below and we'll be delighted to send you a copy of our new handbook.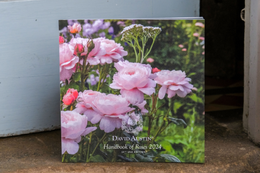 Order a Handbook of Roses 2024
An inspirational guide for expert and novice gardeners alike, the 2024 David Austin Handbook of Roses features our best and most coveted rose varieties. Let the beauty of David Austin roses inspire your gardening journey for the year ahead. Choose your next English rose using our easy to follow Handbook and enjoy fragrance and color within your garden for many years to come.